Welcome to The Purple Sock!
The Purple Sock will be Closing as of April 15th 2023


Hello everyone,

Well, after 16 years, I have made the decision to close The Purple Sock. It has not been an easy decision, but one whose time had come, and I am looking
forward to all the new and exciting adventures that are just around the corner for me!

I have so enjoyed having the shop, it was always a dream of mine…and it came true! I have loved meeting all of you, as friends and customers, and vendors as well. It has been gratifying to me that The Purple Sock has been a destination for many of you, and I have loved hosting our weekly "Sip 'n Stitches", and also our "Sip 'n Spin's" ( with endless cups of tea, lol!) where many of you learned to knit and to spin..that has filled me with so much happiness.

The yarn sales have already begun, and will continue until the closing date of April 15th, 2023. We have always carried a wonderful array of select yarns, and in the coming weeks, most of it will be on sale as well as our many books, accessories, needles, needle sets, bags and rovings…and whatever else we come across!

So, for those of you who are on my email list, the information about sales, shop hours and other information will be sent to you weekly. But if you are just checking in on my website, please email me to be put on the Purple Sock email list so you do not miss out on all the fun yet to come!

Thank you so much for all your support over the past 16 years..it has been one of the greatest pleasures of my life to own The Purple sock and to share it with all of you!

Happy Knitting,
Lynn

​
---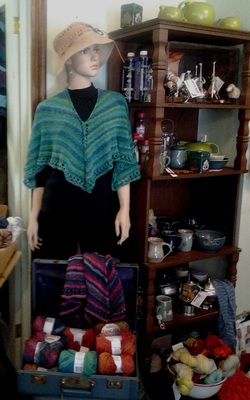 If you would like to be added to our Newsletter list, please go to our hours page and at the bottom is a box to add your name to our mailing list. Or you can email my @ lynn@thepurplesock.ca and ask to be added.



---