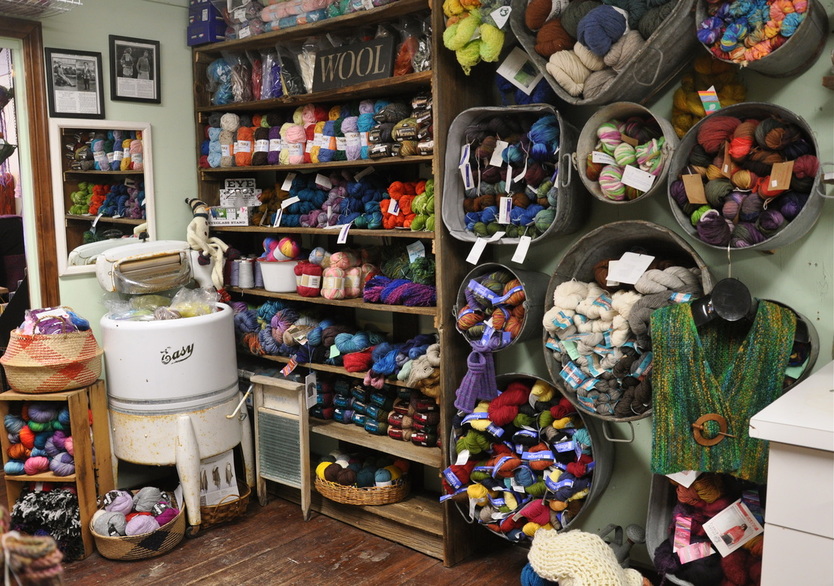 yarn and tools
Shipments of one of our most popular yarns, HEDGEHOG FIBRES have arrived throughout early 2017 as well as new colours of Madelinetosh.

I know we all have special places where we want to travel....mine include
Turkey and of course, Ireland...

But until that time comes, I will just have to comfort myself with Hedgehog Fibres
soft, squishy, Superwash Merino from County Cork, Ireland...the colours are
simply amazing.

Also at the shop are yarns from "Red Sock, Blue Sock", "Dragon Strings", "Vivid Yarn Studio" and "3 Dog Knits", 4 Ontario dyers.
The Purple Sock prides itself on a large selection of Canadian fibres and popular yarns to tempt knitters of all tastes. Some of the featured yarns and fibres are listed below, but we have more than we can list available in the store. Come in and take a look, or call if there is something in particular you are looking for. We always do our best to accomodate special orders!

Featured Canadian Yarns

Biscotte & Cie
Briggs & Little
Cabin Fever
Dragon Strings
Fleece Artist
Lana Knits
Louet
Red Sock, Blue Sock
Three Dog Knits
TotallyInked
Vivid Yarn Studio

Other Popular Yarns

Berrocco
Cascade
Dragonfly Fibres
Jamieson's of Shetland
MadelineTosh
Malabrigo
Manos de Uruguay
Noro
Pagewood Farms
Rowan
We also carry various yarns from Nordic Yarn, Estelle and Diamond Distributors.
Select sweater kits are available.
Spinning
We carry a selection of roving and other spinning fibre, as well as a few drop spindles.
Needles & Hooks
Brittany
Denise Interchangeables
Hiya Hiya (both crochet hooks and knitting needles)
Knit Picks Harmonies Fixed Circulars, Interchangeable tips and cables and DPN sets
Knitter's Pride Karbonz
Lykke Driftwood wooden needles
Rug hooking hooks by Joan Moshimer
Needle felting supplies
The Purple Sock is also a supplier of Rug Hooking supplies. We carry Rug Hooking Lap Stands and hoops from Morgan Hoops, full kits, burlap, primitive linen, red dot and wool.
We have a selection of fibre related magazines and books, including
The Rug Hooking Magazine, Interweave Knits, and Noro Knitting Magazine.
We carry Soak and Eucalan, two rinse-free formulations for washing delicate items including hand-knits and crochets. Another product we are really excited about are
Lazadas Blocking wires.
Every once in a while, a new item appears in the knitting world which really makes an impact, and these blocking wires do just that! They are super-flexible and make it very easy to block all your knitted items no matter the curves and angles. These wires do the job and return to shape - AMAZING!